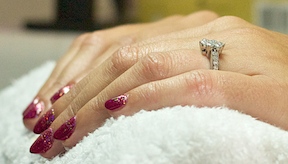 Divine By Design prides itself on being the premier CND nail salon in Chester. You can rest assured that we have the experience and qualifications to give you the perfect nails, regardless of their condition. If you have damaged nails we're able to bring them back to health through a series of treatments. We can create any bespoke nail design to match with any garment, footwear and for any special occasion. If you'd like to discuss wedding nails and options then we're more than happy to work with you to help you find your perfect wedding nail design.
Exposed Spray Tan £25
Exposed is set to revolutionise the Spray Tan industry! It's Adaptable Tanning Technology has created a unique formula that adapts to skin as the seasons change producing a beautiful, moisturising, totally natural looking spray tan with not a hint of orange in sight, regardless of your colouring or skin tone!
CND Vinylux £20
VINYLUX™ is a breakthrough nail polish system that endures a week of perfection…without a base coat! Exposure to natural light secures the patent-pending Pro-Light technology, creating an enduring, long-lasting polish.  Includes a free mini manicure. (Fingers or Toes)
CND Shellac/Gel II £30
Includes a free mini manicure and selection options of Standard Colour, Layered Colour, French, Rockstar, Glitter, Additives, * Hand-Painted Art and *Brisa Lite Smoothing Gel.  Customised options to suit outfits, occasions and colour schemes included. Professional, gentle removal included on repeat appointments. (Fingers or Toes) *May incur additional charge.
CND Enhancements £45
Enhancements are commonly referred to as acrylic nails, tips or gel nails. Options include sculpted or tipped L&P (Acrylics), Brisa Hard Gel (Gels), Brisa Lite Sculpting (The kindest enhancement option, as no buffing of the natural nail is required) and include french (pink & white), custom blended illusion enhancements, finished with Shellac, Rockstar or VINYLUX. *Art may incur an additional charge.
CND Enhancement Rebalance £40
Also referred to as an "infill" or "backfill", however a rebalance recreates the balance and shape of the enhancement to ensure a natural looking and comfortable nail set that others will think are your own. Rebalance includes up to 3 repairs, more than 3 repairs required will be charged as a new set. Maximum of 13 days between appointments for rebalances, otherwise a surcharge of £10 may be applicable. *Art may incur an additional charge.
Minx/Dashing Diva £30
Minx – Favoured by celebrities and the cast of Dancing On Ice. These hypoallergenic designs are heated then applied to the nails for breathtaking designs and effects.
Dashing Diva – The Ultimate in Nail Fashion! Versatile appliqués with Textures, Prints and Patterns.
Nail Art
DBD has a range of colours and effects of glitters, foils, Swarovski crystals, rhinestones and studs for you to choose from
Other nail treatments available on request. All treatments are offered on a unisex basis. Buff finish manicures are available including individual nail repairs and toe nail reconstruction.