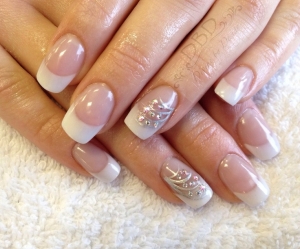 Want beautiful long nails in an instant? Then opt for enhancements!  Chose from "Acrylic nails" or "Gel nails", and if you're not sure just leave it to us, we will tailor our enhancements to suit your nail type, lifestyle and desires!  If you don't see something you want, let us know and we can create it for you with our Custom Colour Bespoke Enhancements.
Nail Extensions have gained some inaccurate bad press over the decades, labelling them as thick, bulky, damaging, yellow and false looking nails. With the best products and training, this is now a thing of the past! DBD has achieved the highest standard of training to become a CND Grand Master, and only uses CND (formerly Creative / Creative Nail Design) products. DBD is renowned for elegant, natural looking enhancements, created exactly to your wishes and designed to compliment your personality, lifestyle, hands and colouring. For the finest nail extensions in Chester contact DBD today.
Nail Enhancement Aftercare
Looking after your CND Nail Extensions goes beyond just booking in for your rebalance/infill appointment in 2-3 weeks time. Here is some important advice to help you care for your nails at home and protect your investment.
• Use Solar Oil at least twice a day by massaging it into your nails enhancements. This will nourish your nails and will even penetrate your enhancement. Solar Oil will not only help to prolong the life of your nail enhancements it will also dramatically reduce breakage, lifting and keep them looking sensational for longer, helping them remain flexible. Please note nails that are not Solar Oiled may become brittle and can therefore "lift" from the natural nail.
• Don't bite, pick or chew your nail enhancements as this will weaken or damage them and can also cause long term damage to your natural nail. This will also weaken the bond between the acrylic and the natural nail, possibly leading to service breakdown.
• Nails should be treated as jewels, not tools! – Never use your nail enhancements as tools to open cans or pick off labels etc. You will not only be risking a painful break or long term damage to your natural nail, but can cause your enhancement to lift and damage.
If you notice any major lifting or you have damaged your nail enhancement it is vital that you do not pull or pick your enhancement as this can remove the natural nail layers leaving your nails soft and weak. Please call us as soon as you can and we will arrange a repair or safe removal. Please note repairs and removals are chargeable.