Natasha Lee of "Divine By Design" (DBD) is a Multi Award Winning, Grand Master Nail Technician based in Chester, Cheshire in the North West.  Specialising in CND Shellac, Gel II, Acrylic Extensions, Gel Extensions, Vinylux Nail Polish Manicures, Minx, Dashing Diva and Nail Art.  Natasha is highly experienced in creating bespoke nails for weddings & special occasions as well as custom created art and colours.
Situated in Guilden Sutton, Chester, Divine By Design has been described as a precious hidden diamond tucked away from the usual high street location, in a discreet, exquisite and intimate nail boutique away from the crowds.
Natasha has won numerous awards/accolades, including CND Shellac Power Polisher of the Year 2013 and Scratch Stars 2014 Gel Polish Stylist of the year finalist, a full list of Natasha's qualifications can be found here.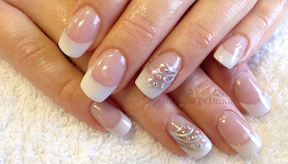 Nail Extensions
Want beautiful long nails in an instant? Then opt for enhancements!  Chose from "Acrylic" or "Gel" nails, and if you're not sure just leave it to us, we will tailor our enhancements to suit your nail type, lifestyle and desires! Find out what makes DBD the best nail salon in Chester.
Natural Nails
Doubt that you can have amazing, strong, long natural nails? Then you need to come to Divine By Design in Chester for CND Shellac or Gel II, your nails will never be the same again. DBD also offer CND Vinylux regular polish manicures for those who want to change their colour more often.
CND Nail Training
We offer Shellac 1-2-1 training courses in Chester and North Wales by Award Winning former CND Shellac Education Ambassador, Natasha Lee. One to one sessions can cover specific skills and help build your confidence as a nail technician whilst getting that personalised training specific for your needs.
DBD News
A year ago when the Scratch Stars finalists for the best Gel Polish Stylist in the UK 2013 were […]
I'd always had a dream from my teenage years to have perfect nails and to own the most exquisite […]
How To Find DBD